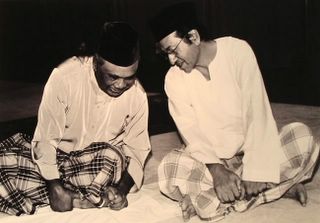 young then..

The passing of Tun Ghafar Baba last weekend was much expected.Knowing his condition since his ICU admission in October last year made me wonder how long can he survive.Not to mention the cost being admitted in ICU for 6 months !! Al fatihah.
Its funny though , how at one time he was very unpopular amongst the Malaysian public.Eventhough i was very young , i remembered the time when he was announced as the replacement for Dato Seri Musa Hitam as DPM in 1986. Though he was a well known figure during the 70's but his "dissapearance" during Tun M's eraly days made people ask.. Encik Ghafar who ?? Everybody was very sceptical with this "undynamic" looking fella and could not relish the thought of him becoming the next PM !! His English command was always a suspect but he managed to hang on and do his job as required. Certainly a loyalist and a strong grassroot politician .He managed to strengthen Tun M's power during the SAD UMNO political power struggle in 1987. When Tun M had to go for his bypass, Tun Ghafar was the Pemangku PM and everybody wanted Tun M to recover fast as the public could not imagine him taking the oath as PM !! haks.. Certainly Tengku Razaleigh / Musa Hitam was preferred then .
I certainly symphatized his political downfall when Tun M decided to promote his protege during the 1992 - 93. Tun Ghafar had to fight for his survival against Dato' Seri Anwar for the deputiship of UMNO. Tun M did not announce his support for Anwar but it was an open secret. I encountered Tun Ghafar then in MAYC hotel ; My lodging for the Pidato Piala Diraja National finals in 1993. He organized a dinner and we participants were somehow brought into the political talk. He with Dato Seri Sanusi Joned lambasted Anwar and Tun M's policy then . i remembered how he was sad as he felt used as a political tool.
" Habis madu , sepah dibuang... "
Tun Ghafar had to relinquish his post when the majority of nominations went to Anwar. He was embarrased and shamed in such a way that showed how crude politics can be. I am glad that the Government see him as a "Negarawan" for his deeds especially his efforts in upgrading the rural Malays.
Politics is certainly scary eih...