cute.
.

Assalamualaikum baby ,

How are you in there ? Hopefully the amnion around you are keeping you warm and comfortable. I know you've been keeping yourself busy , stretching yourself by rolling , turning and kickin umi's tummy. I am happy to see how you've been a good fetus by making umi smile everytime you wake up.

Baby sayang ,

Umi and I have been waiting for you in patience. Though the initial stages were stormy and critical , we are glad that with Allah's grace ; you managed to defy the earlier barriers. Umi shed into tears everytime she bled during the first 3 months. Alhamdulillah , you manage to hold on and praise to Allah the Al-Mighty.

Baby manja ,

Its nearing 32 weeks now ; almost 8 months since you decide to hold on to umi's endometrium . Your growth had been excellent , and we were always greeted with the "don't worry" smile when seeing Uncle Baskaran , or Uncle Patrick. ( Umi's Obstetrician ). I am getting anxious by day , praying that everything will turn out alright. Abang Mikhail's experience last year certainly caused a lot of trauma to Umi and me. Hopefully he is happy up there and will remember us especially in padang mahsyar for his "syafaat".

Babyku ,

UMi is very excited to receive you. Look !! She;s filling up that little corner in our room with your things ; MACAM MACAM ADA ! haks.. As long as Umi is happy , i am too. I know however , deep inside , she's so so worried . I can't do anythingh about that really , Umi being umi !!! but lets pray together kay baby..

I'll write to you again later kay sayang..
your father..
p/s glad you enjoyed the FA cup finals !!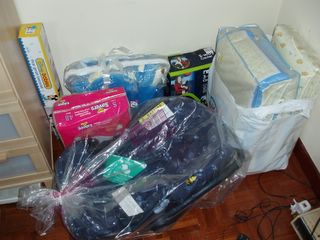 banyak giller..