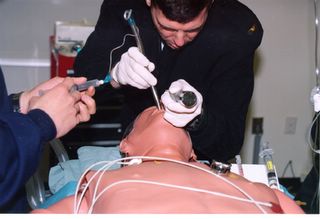 Got a phone call yesterday late afternoon after finishing rounds in ward 26.
"Dr. Mafeitz... telephone...!!! "

ok... coming.....

Hello... Mafiz... ni Rizah... ( my fellow collegue ) Dr Chris wants to speak to you..

aaaaa... ok...
Damn it.. i said.. berderau jugak darah. I didn't inform my consultant regarding my sudden leave on wednesday to Alor Star. Shit i said.. mesti kena sound ni..
Hello.. MAfeitz ? Chris Lee here..

Yes Dr Chris..

I have some good news for you.. We are releasing you to anaesthesia on the 1st of March !!!!!

Oh... *stunned*

I have to fullfill my promise.. you've been so kind to us to stay in the deaprtment during our time of need. Now its my turn to repay you ...
And i went like.. whoooaaaaa... CAYALAH !!!! haks...CONFIRMED BY THE BIG BOSS HIMSELF !!!!!
Well , earlier yesterday during FREE lunch after the ID Antibiotics forum , Dr Rozita ( the b***h i hated ) came up to me and told me unofficially. Obviously i did not believe her and was a bit sceptical. Then later - during the CT scan conference , Dr Badrul ( specialist in charge of MOs ) told me that i'm off to anaesthesia !!
Gosh.. after all the effort , fights , arguments , letters .. haks.. i finally got it! I was thinking of seeing the Timbalan Pengarah coming 2 3 days to see the update of my application . I am really glad that i will now be where i want to be..
haks.. at the same time , a bit scared coz there is no turnin' back. Have to do well and reliable !! i reckon the training i'll be getting in HKL will benefit me . Thank you to everybody who helped me to get me be where i want to be. My tribute to the Medical Department specialists who had taught me alot during the posting.. it was worthwhile and i am now more prepared than ever to take the anaesthesia challenge..
p/s and a step nearer to my Dream BMW .. hehehehehe