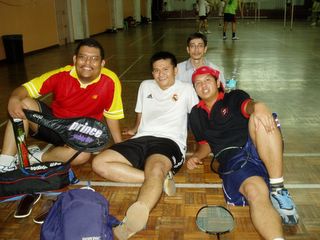 post badminton without azad this week

The main reason why most of the kam-cheng gang decided to restart the badminton game on tuesday nights ; was to shed off the extra weight we have been gaining for the past few years. However i realized that the past 3 sessions , the objective is somehow deviated. Seduced by the dark side of the force.. We did sweat out solidly for two hours , but everybody had one thing in mind after 11pm...
haks.. the nature of being mentekedarah is still strong amongst us. Since we were introduced by Dil 2 weeks ago , the ultimate kuey teow of 222 , PJ , we've been a regular crowd there! And the way we eat ..man.. kuey teow belasah sekali 2 pinggan. dah la murah.. hehehehehe.. Azad n his boss Roslan however did not join us today due to his commitment to work. Haks.. good for you Azad..
RM2.50 kuey teow pujaan hati

Hopefully , the kuey teow eating session will not take over the main objective ; that is to enjoy a good game of badminton !! haks..
p/s somehow.. the "world" fever hit us badly during the game..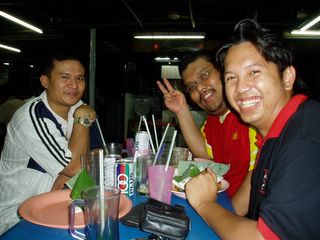 corrupted bunch