This is Sungai Tekala.. not the place i went to. .tapi nak ade pic cover version kan.. hahahaha
Wow. Just came back from Projek Tekad - an initiative organized by PROMUDA in contributing back to the society. Its this typical project of tutoring / coaching of students held for 2 days ; encouraging students to realize their potential and know about the future. I am proud to be a part of this project for this year - held in Pusat Ko Kurikulum HUlu Langat , Selangor 29 - 30th January. But us , the fascilitators aka the coaches was there since friday evening ; hence the reason for me not to blog ; almost a week dah ni !!!!
It was indeed a very keen experience for me as this is the first time i am involved in a big scale project with PROMUDA. Otherwise , i'm quite comfortable with the programme aS i've been involved in a lot of courses and camps with students esp with BTN.( i am their instructor / fascilitator ) The programme initiated here is a bit different from the ones i;m used to being into ; but it was worthwhile because in things like this there are lots of things to learn.
MY champions ( thats what we call the kids ) were called Versacorp. hahahaha.. gile Apprentice nyer influence. But the unique thing is i only had 5 kids with me. I was suppose to be with another coach to fascilitate group of 10 students ; dunno what happened TO her so i was with the cute 5 ; namely Che Yin , Faizal , Sara , HAlimah and Saleha. All fifth formers from Ampang and Hulu Langat. They were shy in the beginning ;
very very shy !!!!
they were not even trying to talk to each other during the logo and group name session . The other coaches who saw the "problem" tried to rescue the kids when i purposely was letting them to sort it out on their own . They had the potential , i left them alone for a while to create stress in them and when the time limit was about to be up - i dived in and pushed them.. and wallah.. i was so happy that they came up with something which was fairly good. and thenn , after they broke their ice - the group dynamics starts.They did fairly well in their tasks during the 2 days and i was proud of them. I gave Che Yin the champion of champions from my group because of the change that he showed during the activities ; from somebody who looked not interested to somebody who was pro active and smiled a lot after that.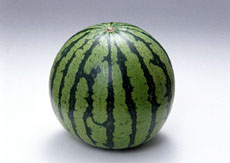 I brought a melon from home - it was suppose to be a learning for the group. But as there was only 5 of them , dah la kecik2.. so i decided to withdraw the idea. They were suppose to bring around the melon wherever the group goes ; regardless !! It would have been fun but as i was only handling 5 ; i reckon i could concentrare on their individual traits.
Their stories were the typical problems of adolescent. I hope that from what i;ve shared with them i've gave them some idea about life and about vision. They'll be taking their SPM this year and i wish the best from them. I know i cant change them in 2 days but i hope that what i've told and shared with them would encourage and motivate. Well , i will never know the impact until after this.
As for the programme in whole , it was well organized .The modules were mind boggling and certainly made them to think and use up their brains.Even when we went through it during TOT , it challenged us.Sleeping in tents again after so long was indeed refreshing. Reminded me of my active ko-ko days ! I was so excited that i brought everything that was essential for a true camp ; my parang , rafia , head torch , sleeping bag and my rough clothes. hahahahaha so keen ..
Mal laughed at me during the opening ceremony when he found out that i was the designated " USTAZ" to read the opening DOA. It was a role familiar to me during my school days.hahaaha jangan lepas ni jadik official doa reciter for PROMUDA sudah la !!!! But i suppose , being trained in such a way during my school days , i had to fulfill the fardu kifayah regarding being imam during prayers and etc. I know i am not pious by nature but somebody had to do it during the programme. Bagus jugak , at least it will help me to improve myself on the spiritual side. btw Ziad.. hang nyer suara mmg sedap ah time azan subuh semalam. pastu petang nyanyi bagi kalah hazami lak tu.. tension jer muka HAZAMI.. hehehehehe. DIL.. bila lagi nak challenge ??
The company ( coaches & secretariate ) were kewl too.So dedicated and responsible.
TABIK SPRING BANG !!!
Had lots of new friends from various sectors. enjoyed my time with DIL .. the one and only DIL.. mmbbuaaahhhss.. it was fun working and being a "fair" judge with you.. muahahahass. and something really did caught our eyes and imagination didn't it DIL ? muahahahahahass...
But unfortunately the venue was not suitable as it was meant for rough outdoor activities. It was a shame not to utilize the potential which was rich with extreme exciting activities. I could see the students frustration going through our modules which was in fact ; quite indoorish in nature and sometimes if it was not lead through well by the coaches ; it can be boring at times. Quite a big lot was there before and their expectations were high for challenging physical activities.
( haks.. i remembered my MMSC camp which gave me a headache when the same sentiment arose !!! )
If i am given the chance to be involved in the Next Tekad programme , i hope to be "sub-con" into the module team because i have few ideas and experience that i can share with the rest of the management.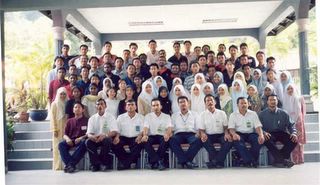 MY MMSC Camp 2002
There are few things which concerned me that i reckon can be improved.I will give the feedback to the
CORE
team later.( Perhaps i can name myself the
NECK
team ?? hahahahaha ) Being involved with fragile and labile kids is not easy. We have to be careful of everything that we do as it will definitely inject some influence into their values about life. Whether one realizes it or not ; we are their role models during the programme and perhaps after.Impression and image is important especially from our side ; the Young Professionals. It is easy for people to misjudge and perceive. Therefore , this is one aspect that we should emphasize especially in dealing with other parties who may have absolute different background and experience.
I had fun.. so much fun. It was fullfiling to run away from my hectic schedule in the hospital . Especially regarding my BLOCKED transfer to anaesthesia. I hope that i can find some digital pics from other coaches so that i can post it in my blog for remembrance.
SEMANGAT ?? WAJAAAAAA....
SEMANGAT ?? WAJAAAAAA....