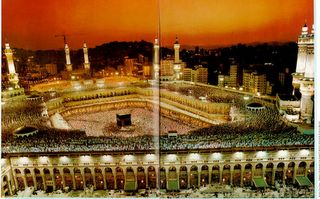 Salam Aidiladha !!!! Selamat Hari Raya !!!!
Well , the day went quite slow today. woke up late but just in time for the prayers. Its raya haji and the atmosphere is not so plentiful compared to raya puasa.
The mood was not there ; but ok lar. we didn't go anywhere today expect to Mak Dj and Mama TTDI. Anyway , its friday today. Two sunat prayers wajib to be done as jamaah !! well , in Islam we call it Hari Raya Akhbar. it means BIG !! It was a bit hot today , but besides that nothing exciting actually happened.
Anyway , myself a bit sleepy today. Not quite in the mood to celebrate gallantly. We will be going to Paklongs place in Bangi after maghrib prayers. Pot Luck party but it should be a good gathering. Apparently Mak Uda will be bringing her favourite dish ; lasagna. mmmmm.. looking forward for that.
Anyway , tomorrow wil be eventful. The qurban in SMTTDI will be done in the morning. Haks.. cant wait to see my precious QURBAN and perhaps perform the qurban myself.
btw - Congratulations Megat Harris !! 2nd child was born on monday !! haks.. cayalah , cepat giller.. 2 dah.. both girls.. haks.. they're both around here so i should be visiting them in Kota Damansara soon.. "smile"