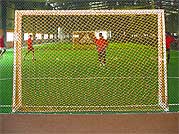 Sports Planet Subang
Woke up this morning.. and realized that from now on i will have free weekends !!! UNless i'm on call u see..
Haks. i'm so used to working 7 days a week , i cant believe today i was able to sleep in , enjoying the moment - lying lazily without any worries. In the medical department , we have to take turns doing weekend rounds - waking up early in the morning and returning home near noon. Well, this is my new life. As i am currently tagging ; i wont be on call for 3 months !! So imagine having free weekends like any other ordinary joe !! haks.. call me jakun but this is definitely A BIG CHANGE IN LIFE.
Friday nite futsal went on as usual last nite - 10pm - 12am. I guess my evening jog in Kiara Hill had done some good as now i am able to last longer . I can play 5 games straight ( winners stay in the court while challengers come in once a team is beaten 2-0 ) I am much fitter now compare to last month when i can barely survive in a game runnin none stop !!I am worry about my weight though - my BMI is now 29 which is borderline obesity ...waahh.. i don't look obese do i? but compared to how i look only a few years ago - i am one berisi man !! haks.. Well, trying to control my appetite desire which is sometimes really really really really hard to DO !!
tONITE will be the JAMUAN MAKAN MALAM DIRAJA KOSMIK ( haks.. ) TEKADMONs gathering at Aizans. Apparently a live band will be playing which is very cool to my standards !! Looking forward for the meet.. will have lots of fun.. and food !!!